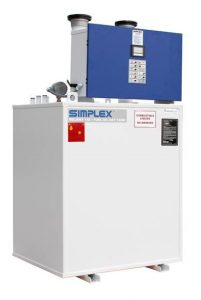 Simplex Day tank capacities of 10, 25, 60, 75, 100, 150, 200, 300, 400 for class II liquid > 100 degree F flash point, UL508A integrated controller, pump sizes for 2-25 GPM, 1/3 to 1.5 HP, construction for UL142 secondary containment tank (double wall) suitable for indoor (standard) or outdoor (optional) installation, Carolina Vermillion (tank) Simplex Coastal Haze (controller) finishes. They are also experts at building products that meet our customer's exact requirements.
Please view their products HERE!
In addition, contact to Jay Peterson for more info!