Anchor Lok

Pacific NW, US
Overview
ANCHOR-LOK is a unique, chemical and abrasion resistant thermoplastic lining system for the protection of poured-in-place or pre-cast concrete. ANCHOR-LOK sheets are available in various grades of Polyethylene (PE), Polypropylene (PP), Polyvinyl Chloride (PVC) and Polyvinylidene Fluoride (PVDF). Polypropylene ANCHOR-LOK is available in an ultraviolet (UV) resistant grade for outdoor applications. PVC ANCHOR-LOK is not recommended for outdoor applications that can be subjected to temperatures below 40oF (4oC).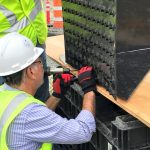 Small ANCHOR-LOK structures, such as sumps and trenches, can be shop fabricated. Large structures, of unlimited dimensions, are constructed by attaching the sheets on standard concrete formwork. The design of concrete structures and the forms required for placing the concrete are unaffected when using ANCHOR-LOK. After placing concrete, the formwork is removed and the joints between the sheets are rod or extrusion welded, followed by spark testing to complete the installation.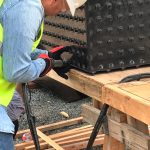 Additional Information
Connecting to existing piping, trenches and equipment is easily accomplished. ANCHOR-LOK linings reduce construction time and eliminate extensive surface preparation. They are placed in service in less time than is required for other types of protective lining systems. In most cases, prefabricated ANCHOR-LOK structures do not require field welding and are ready to use after stripping the concrete forms. ANCHOR-LOK thermoplastic sheets are manufactured with anchor studs on one side of the sheet. The unique engineered anchoring and connecting system of H-Zip strips provide a smooth lining system that is an integral part of the concrete structure. The anchor studs become embedded in the concrete thus locking the lining in place. The lining will not loosen if moisture penetrates through the concrete from the exterior which can occur when coatings or linings are installed on concrete that is below grade or in areas with a high water table.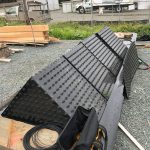 Anchor-Lok was recently used at the Coos Bay WWTP. For more information regarding this product, contact Mascott Equipment.