Fabricated Plastics

Pacific NW, US
Overview
Mascott is the manufacturer's rep for Fabricated Plastics in the Pacific Northwest. Their dual-laminate tanks have been used through the pulp and paper industry and semiconductor industry
"CHALLENGING ENGINEERING DESIGN AND ULTRA PURE FABRICATION FOR THE SEMI-CONDUCTOR INDUSTRY"
The semiconductor industry is one of the most demanding in terms of its requirements from suppliers. Only a few companies worldwide have the expertise, the facilities, the knowledge, and the experience to be considered when new plant equipment is put out for bidding. Similar to the pharmaceutical and food industries, an extremely high standard of pristine purity is mandated in all materials and equipment so that when the processes involved in manufacturing take place, they do so in an antiseptic environment that is totally neutral and free from contaminants of any sort.
The solution to the problem at hand not only had to be viable but affordable. It also is presented to the end user almost immediately. Seemingly impossible challenges are exactly what makes a team of dedicated, enthusiastic engineers rise to the occasion. And Fabricated Plastics did. They had the total package in the contractor's hands literally minutes before the deadline.
The mechanical contractor was familiar with local and West Coast companies that were approved to do this kind of work, so it is noteworthy that Fabricated Plastics, until this time unknown to the contractor, beat out the competition, by providing direct and immediate support for this bid, in person on site.
Specifications:
The requirement was for seven (7) fiberglass tanks, all of which were of large dimensions, to be used in chemical service – specifically sodium hydroxide, phosphoric acid, sulphuric acid, and hydrogen fluoride. The 7 tanks were comprised of three (3) at 14ft dia x 12.5 ft high, two (2) at 8ft dia x 9ft high, and two (2) at 7ft dia x 9ft high. Each tank was to have an agitator support structure built as an integral part of the tank, together with an FRP encapsulated steel bridge.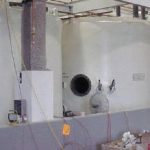 More Information:
A major design problem was presented by the restrictions on the space into which the tanks had to fit. A 14ft high tank would traditionally have a dish-shaped top to ensure structural integrity, particularly in this case as the design pressure was a high 3 PSIG. However, the confined space would not accommodate a dish top; as there had to be enough headroom for people to work and move on top of the tank. The solution was a flat-topped tank. To address the problem of the design pressure, a unique Fabricated Plastics design, featuring a sandwich construction using a 3″ thick balsa wood core, is applied.
Internally, the tanks are constructed using proprietary Fabricated Plastics design for the baffles. Unlike the traditional plate and gusset, this design uses a trapezoid shaped solid baffle. Which, together with the tank wall design, reduces "panting", the vibratory flexing of the walls when agitators are being used.
With all design difficulties successfully overcome and executed, the next stage was a painstaking cleaning and purification procedure. The procedure would ensure that the equipment met the exacting standards of the semiconductor industry. This entailed a water wash using de-ionized water. Which is followed by a thorough drying using special wipes to ensure a complete absence of contaminants. To do this, a team is dressed in pure-white coveralls with special footwear which eliminates invasive damage and maintains purity.
Additional:
Finally, each tank is fitted with a Hepa filter in the vent to enable breathing during shipment. This would also work to deny entry to any particulate matter. The tanks are shrink-wrapped with Polyfilm and are ready for shipment and delivery.
Of course, shipping oversize tanks by road presented logistical problems, particularly when crossing the border and state lines. A raft of permits & licenses were obtained and the trip was planned with precision so that it worked like clockwork.