Wayne DEF Tank Wrap

Central, WA
Overview
Mascott recently sold and installed an add-on DEF system to an existing truck stop site in Central Washington State.  We added three Wayne DEF modules to three 10 year old Vista high speed dispensers.  We used a 6000 gallon poly-vertical tank with a fully insulated blanket to protect the DEF product against the hot and cold temperature variations at the site.  Mascott also installed an immersion heater in the tank which in turn will keep product from freezing during winter operation.
See the photo below.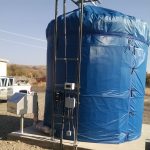 Interested in upgrading your site? Contact the Mascott Sales team for your free quote today! To learn more information about Wayne DEF dispensers and other products, visit Wayne Fueling Systems.